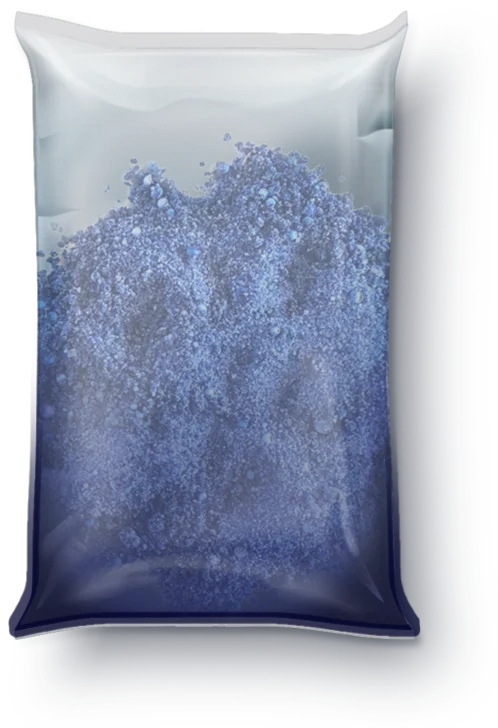 LE TUE STR*NZATE NON SONO MAI
Stai cercando EWTS Plus?
L'hai trovato! Abbiamo aggiornato il nome a "Black Magic RV" ed abbiamo migliorato il packaging che adesso è un materiale completamente riciclabile con la plastica, mentre il disgregante è rimasto completamente invariato. Stessa quantità! Stessa Formula! Stessa spettacolare fragranza al Bubble Gum!
Benvenuti a Black Magic RV: un meraviglioso disgregante profumato. E' la miglior soluzione per i serbatoi delle acque nere presenti su camper e caravan.
INFORMAZIONI SUL PRODOTTO
DISGREGA LE STR*NZATE IN MODO NATURALE.
BLACK MAGIC RV ' piu' forte ed ecologico che mai! Una miscela di batteri ed enzimi speciali selezionati su misura lavorano insieme per abbattere rifiuti e tessuti in modo ecologico e naturale. Questo mantiene le pareti del serbatoio e le sonde libere dalla sporcizia, aiuta ad eliminare l'accumulo di rifiuti solidi e garantisce uno scarico più facile con minimi detriti o quasi nulli.
Biodegradabile e senza prodotti chimici aggressivi aiuta a ridurre la contaminazione ambientale.
NESSUN TENTATIVO. NIENTE SPANDIMENTI.
Niente più sprechi ed ipotesi! Basta una bustina pre dosata. Semplice da usare, si dissolve rapidamente a contatto con l'acqua consentendo agli enzimi e ai batteri di agire immediatamente rimuovendo gli accumuli sulle pareti del serbatoio, sui tubi, sulle pompe e sulle sonde.
PERFORMANTE AD ALTE TEMPERATURE.
Durante i mesi estivi il caldo fa sì che i batteri e gli enzimi si moltiplichino ancora più rapidamente aumentando la loro efficacia. Anche dopo aver svuotato il serbatoio, i residui di questi batteri ed enzimi rimarranno attivi consentendo risultati più rapidi con un uso continuo.
FATTO PER DURARE.
Con l'utilizzo di tinture e profumi igienico-sanitari di alta qualita' ci assicuriamo che il tuo serbatoio rimanga privo di macchie e abbia un profumo fresco, in un formato ancora più ecosostenibile. Sicuro per tutte le parti del serbatoio; goditi bagni privi di odori per un massimo di sette giorni con ogni bustina che tratta taniche fino a 80 litri. Non devi più preoccuparti di odori sgradevoli e di dover sfregare a lungo per pulire il tuo serbatoio.
BALANCED BY DESIGN.
Welcome to the magical marvel of Black Magic RV. This all in one solution makes sure your camper and RV's waste tank is stain free, grime free, and smelling fresh. We' wrapped this up in a package that strikes a fair balance between strength, ecological responsibility, and simplicity.
DISGREGA LE STR*NZATE IN MODO NATURALE.
Our secret recipe combines the power of naturally occurring enzymes and non-pathogenic bacteria, teaming up with a small quantity of biocide to create the right arena* for victory. These unlikely allies work to digest and liquefy waste, eliminate fouling, and put those odor-causing bacteria in their place.
TIMED TO DELIVER.
We have taken this enchanting formula and enclosed it in timed-release capsules, ensuring the survival of our probiotic solution through the initial sanitization process. Even after emptying your RV's black water tank, a residue of these remarkable bacteria and enzymes remains, on the tank walls paving the way for even quicker results with continued usage.
*Once the water needed to dissolve the sachet is added to your tank, the already small quantity of biocide, which may have initially posed a threat to our valiant probiotic warriors, becomes diluted, losing its power to cause them harm.
PERFORMANTE AD ALTE TEMPERATURE.
Get ready for a hot performance that will leave you spellbound! During those scorching summer months, when the stench threatens to overpower your holiday escapades, our bacteria and enzymes multiply like wildfire, boosting their efficiency to even higher levels. This allows us to forgo the need to add even more chemicals and fragrance to keep the stench in check.
NESSUN TENTATIVO. NIENTE SPANDIMENTI.
With just one single sachet It's as simple as can be—drop that sachet into your toilet, or waste tank, add water, and watch the magic unfold. It dissolves rapidly upon contact with water, coloring, perfuming, and disinfecting your waste tank with speed and ease. Spend less time worrying about awkward glances when you leave the bathroom, and more time enjoying the wonders of life on the road!
FATTO PER DURARE.
This magical formula is made to last and ensures foul-odor-free bathrooms for up to seven days. It's safe for all types of black water holding tanks in RV's campers, caravans, and vans. Not only will it keep your tank in tip-top shape, but it will also lubricate valves and keep your probes clean and free from build-up.
1. Start by removing that cassette, emptying its contents and giving it a good ol' rinse. And hey, be extra cautious on the first wash to banish any lingering traces of previous chemicals. We're all about fresh starts here!
2. Now, with hands as dry as a desert, it's time for the epic toss! Grab a single sachet, channel your inner sports star, and aim for that cassette tank or, if you prefer, the toilet (no judgments here). But hold on, don't forget to add some water to the mix. We recommend 2-5 liters, depending on the tank size, ensuring that the sachet is fully submerged. And if you're feeling fancy, give the cassette a gentle shake like you're making the most epic cocktail.

3. Treat yourself to a well-deserved drink. Need to use the bathroom because of said drink? No worries we have you covered! Repeat as needed, till tank is full.

4. When your tank is full it's time to empty that bad boy. And here's the best part: on your subsequent uses of Black Magic RV, there's no need to go overboard with the cleaning. A light rinse with water is all that's required. Why? Well, that remaining residue contains our probiotic culture, working behind the scenes to accelerate the breakdown process on your next use.

FOR LARGER HOLDING TANKS:

1. Remove casset, emptying waste water and rinse out well. Take special care on the first use to remove the residue of previous chemicals.
2. With dry hands, toss a single sachet* directly into the casset or into the toilet . Add sufficient water to your tank making sure that it covers the sachet. If desired, give the cassset a gentle shake to help insure good dispersion.
3.Use toilet liberally, till full.

4. Empty your tank when full. On successive uses of EWTS Plus, only a light rinse with water is required, remaing residue contains our probiotic culture helping speed up the breakdown process.
PULIRE LA TANICA E' COMPLESSO! RENDIAMOLO PIU' SEMPLICE.
Per il primo utilizzo di BLACK MAGIC RV, pulire accuratamente la tanica con acqua corrente avendo cura di rimuovere i vecchi residui chimici. After your tank has been thoroughly rinsed, drop one sachet into the tank. Aggiungi abbastanza acqua per coprire l'intera bustina e lasciala dissolvere. Una volta che il serbatoio e' pieno, svuotalo e ripeti l'intero processo. Ecco fatto!
L'uso successivo di BLACK MAGIC RV richiede solo un rapido risciacquo con dell'acqua dopo lo svuotamento.
ALTRO PRODOTTO

FANTASTICO.



EWTS MARINE
Un disgregante extra forte per i serbatoi delle acque nere presenti su piccole imbarcazioni e yacht.
GREY WONDER
Questa meravigliosa polvere blocca la crescita di biofilm e batteri che causano cattivi odori. Non solo ma pulisce e sanifica gli scarichi ed il serbatoio.